2023年05月01日
Yumiko-chan, the collided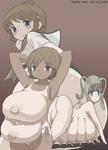 The collage "Yumiko-chan, the collided" depends on the original images you can find. here, there and ebverywhere.
Yumiko-chan is created by Henmaru Machino for the comic "The Best Of Yumiko-chan" 1993 published by Issuisya and many more short comics.
In many cases of her comics, Yumiko-chan hurries up because of being late for her school, and collides head-on someone or something on her turning over. And she is raped (sometimes digged) by him or her otherwise it or them.
Deux ou trois choses que je sais d'elle (2 or 3 Things I Know About Her)"
If you want to know about the movie directed by Jean-Luc Godard, please check this page.
But, if you want to know about her, please check this page.

posted =oyo= : 11:30 | comment (0) | trackBack (0) | deux ou trois choses que je sais d'elle /ものづくし (click in the world!)
トラックバック
このエントリーのトラックバックURL:
http://www.rtm.gr.jp/mt/mt-tb.cgi/3538