2023年04月30日
Nami, the whore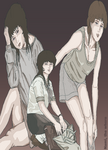 The collage "Nami, the whore" depends on the original images you can find, here, there and everywhere.
Nami Tsuchiya is created by Tomomi Sanjo for the comic "Shoujo Nami : Nami A Girl" published by Taiyoh Tosho Co.,Ltd. on 1992. (Later, the comic has been published by Kuboshoten)
Nami Tsuchiya is a banal girl, the second grader of a high school student.
One day, her father has disappeared and her mother killed herself. She is only 16, but she must pay back her father's debt. So, she started to work at a S&M club. And ...
Deux ou trois choses que je sais d'elle (2 or 3 Things I Know About Her)"
If you want to know about the movie directed by Jean-Luc Godard, please check this page.
But, if you want to know about her, please check this page.

posted =oyo= : 08:00 | comment (0) | trackBack (0) | deux ou trois choses que je sais d'elle /ものづくし (click in the world!)
トラックバック
このエントリーのトラックバックURL:
http://www.rtm.gr.jp/mt/mt-tb.cgi/3523