2022年05月01日
Black Lizard, the phantom thief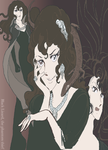 The Black Lizard aka Mrs. Midorikawa was the heroine from the comic "Kuro Tokage : Black Lozard" 1975 by Ryoko Takashina for the monthly shojo manga magazine "Nakayoshi" published by Kodansha.
The comic was one of the adaptations from the novel "Black Lizard" 1934 by Rampo Edogawa for the monthly magazine "Hinode : Sunrise".
This collage depends on the original images you can find here, there and everywhere.
Deux ou trois choses que je sais d'elle (2 or 3 Things I Know About Her)"
If you want to know about the movie directed by Jean-Luc Godard, please check this page.
But, if you want to know about her, please check this page.

posted =oyo= : 08:29 | comment (0) | trackBack (0) | deux ou trois choses que je sais d'elle /ものづくし (click in the world!)
トラックバック
このエントリーのトラックバックURL:
http://www.rtm.gr.jp/mt/mt-tb.cgi/3302