2021年09月03日
Janet Leigh in "Forgotten Lady"
There's No Doubt She Did It, But I Have A Problem With This Case.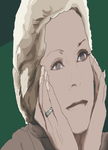 In the tv drama "Forgotten Lady" 1975 directed by Harvey Hart for the episode 1 in 5 seasons for tv drama series "Columbo" 1968 - 1978, created by Richard Levinson and William Link on NBC. Janet Leigh acted as Grace Wheeler, the murderer with staring Peter Falk acted as Lt. Columbo and Sam Jaffe acted as Dr. Henry Willis.
Deux ou trois choses que je sais d'elle (2 or 3 Things I Know About Her)"
If you want to know about the movie directed by Jean-Luc Godard, please check this page.
But, if you want to know about her, please check this page.

posted =oyo= : 00:03 | comment (0) | trackBack (0) | deux ou trois choses que je sais d'elle /the images for rui's profile
トラックバック
このエントリーのトラックバックURL:
http://www.rtm.gr.jp/mt/mt-tb.cgi/3223