2021年05月03日
Kaho, the piercing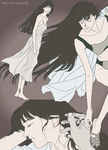 Kaho was the heroine for the comic "Sex
" 1988 - 1992 created by Atsushi Kamijo for the magazine Weekly Young Sunday.
On the summer, in Okinawa, Kaho came the islands with her classmates for her school excursion of the high-school. She went it separately to make a search for Natsu, her friend from infancy. And she met Yuki with Natsu. And the story of three of them had begun.
This collage depends on the original images you can find here, there and everywhere.
Deux ou trois choses que je sais d'elle (2 or 3 Things I Know About Her)"
If you want to know about the movie directed by Jean-Luc Godard, please check this page.
But, if you want to know about her, please check this page.

posted =oyo= : 08:31 | comment (0) | trackBack (0) | deux ou trois choses que je sais d'elle /ものづくし (click in the world!)
トラックバック
このエントリーのトラックバックURL:
http://www.rtm.gr.jp/mt/mt-tb.cgi/3082