2018年04月29日
Ruriko Wakatsuki, the asylum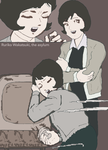 Ruriko Wakatsuki was created for the comic "Tiger Mask
" written by Ikki Kajiwara and illustrated by Naoki Tsuji on "Bokura Magazine" from 1968 to 1969 and from 1970 to 1971 on "Weekly Shonen Magazine".
Ruriko Wakatsuki was the heroine for the comic. She was a friend from childhood of Naoto Date and run for the orphanage "Chibbiko House" with her older brother Akira Wakatsuki. She wondered the true character of Tiger Mask was Naoto Date and had worried about him.
This collage depends on the original images you can here, there and everywhere.
Deux ou trois choses que je sais d'elle (2 or 3 Things I Know About Her)"
If you want to know about the movie directed by Jean-Luc Godard, please check this page.
But, if you want to know about her, please check this page.

posted =oyo= : 00:03 | comment (0) | trackBack (0) | deux ou trois choses que je sais d'elle /ものづくし (click in the world!)
トラックバック
このエントリーのトラックバックURL:
http://www.rtm.gr.jp/mt/mt-tb.cgi/2428