2006年10月29日
"Homebrew" by Neneh Cherry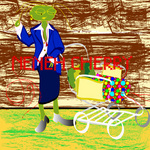 作品の完成度で言えば本作『Homebrew
』ではなくて次作『Man
』かもしれないし、一番好きな彼女はやっぱりリップ、リグ&パニック(Rip Rig + Panic)で最初に出会った時かもしれない。でも、あえてこの作品を推すのは、いつもの様にジャケットのせいです。

バックでどんな音楽が演奏されていようとも、それらを凌いで聴こえる彼女の声が好きだ。しなやかで強靱で伸びやかで逞しい。
義父であるドン・チェリー(Don Cherry)も参加したリップ、リグ&パニック(Rip Rig + Panic)のメンバーとして来日した時は、鳴り響いている、どファンクでフリーキーな演奏を置いてきぼりにして跳ね回っていたみたいだし、ソロ・シンガーとして再デヴューしたファースト・シングル「バッファロー・スタンス(Buffalo Stance)」が大ヒットした時は妊娠中で、腹ボテの身体で唄っていたとか。身体にまつわる逸話ばかりだけれども、つまりはちっちゃな身体にがんじがらめになっている己の中のミューズが解放を求めていると書いちゃったら贔屓の轢き倒しかもしれない(ってもう書いちゃったけれども)。
1992年発表の本作も、ギャング・スター(Gangstarr)とのコラボレイションありのR.E.M.(R.E.M.)のマイケル・スタイプ(Michael Stipe)とのデュオ・ナンバーありと、相変わらずのヴァラエティ感に富んでいるけれども、どうも二分〜三分台の曲が多いから小品集という感じがするのは何故だろう。
ソロデヴュー・アルバム『Raw Like Sushi
』で演出された"逞しい女"と『Man
』以降で追求される、その声質を活かしたシンガーとしての充実度、その過渡期の様な気がしてならない。だから好きなんだけれどもね?
ジャケットでは、思案しているかの様な佇まいの彼女の横にはからっぽの乳母車。そこに乗っかるべきものは何だろう?
撮影はジャン・バプティスト・モンディーノ(Jean Baptiste Mondino)。
ものづくし(click in the world!)  39.:
"HOMEBREW "by NENEH CHERRY

"HOMEBREW" by NENEH CHERRY
1.SASSY featuring Guru from Gangstarr 2:33
Witten by N.Cherry / C.McVey / Gangstarr
Produced by Booga Bear / Jonny Dollar / Neneh Cherry / Gangstarr
Published by Virgin Songs,Inc.(BMI) / EMI Music Publishing Ltd.(ASCAP)
2.MONEY LOVE 3:39
featuring J$(from 'Trout') on guitar
Written by N.Cherry / C.McVey / J.Sharp / Gamble / Muff / Jackson
Produced by Booga Bear / Jonny Dollar / Neneh Cherry
Published by Virgin Songs,Inc. / Warner-Tamerlane Publishing Corp.(BMI)
3.MOVE WITH ME 5:19
Written by N.Cherry / C.McVey / L.Kravitz
Produced by Booga Bear / Jonny Dollar / Neneh Cherry
Published by Virgin Songs,Inc.(BMI) / Miss Bessie Music(BMI)
4.I AIN'T GONE UNDER YET 4:04
Written by N.Cherry / C.McVey / Gangstarr
Produced by Booga Bear / Jonny Dollar / Neneh Cherry / Gangstarr
Published by Virgin Songs,Inc.(BMI) / EMI Music Publishing Ltd.(ASCAP)
5.TWISTED 4:37
Written by N.Cherry / C.McVey
Produced by Booga Bear / Jonny Dollar / Neneh Cherry / Twilight Firm
Published by Virgin Songs,Inc.(BMI)
6.BUDDY X inspired by.....!?! 2:49
Written by N.Cherry / C.McVey / K.Barnes / J.Barnes
Produced by Booga Bear / Jonny Dollar / Neneh Cherry
Published by Virgin Songs,Inc.(BMI) / WB Music Corp. / Tix Music / Kullu Shay(ASCAP)
7.SOMEDAYS 3:35
Witten by N.Cherry / C.McVey / G.Barlow
Produced by Booga Bear / Jonny Dollar / Neneh Cherry / Geoff Barlow
Published by Virgin Songs,Inc.(BMI) / EMI Music Publishing Ltd.(ASCAP)
8.TROUT featuring Michael Stipe 5:04
Witten by N.Cherry / C.McVey / M. Stipe / J.Sharp
Produced by Booga Bear / Jonny Dollar / Neneh Cherry / M. Stipe
Published by Virgin Songs,Inc. / Night Garden Music administered by Unichappell Music Inc.(BMI)
9.PEACE IN MIND 5:36
Witten by N.Cherry / C.McVey
Produced by Booga Bear / Jonny Dollar / Neneh Cherry / JT for Ronin Inc.
Published by Virgin Songs,Inc.(BMI)
10.RED PAINT inspired by Moki Cherry 5:27
Witten by N.Cherry / C.McVey
Produced by Booga Bear / Jonny Dollar / Neneh Cherry
Published by Virgin Songs,Inc.(BMI)
All tracks recorded @ Cherry Bear Studios,London & the Cherry Bear Mobile & mixed at Medley Studios,Copenhagen except "Sassy" additional recording @ Grapehouse Copenhagen,"Money Love" & "Twisted" mixed at Orinoco London,"Trout" additional recording @ Powerplay New York.
All tracks mixed by Booga Bear and Jonny Dollar
All tracks and mixed engineered by Jonny Dollar
Gangstarr appears courtesy of Chrysalis Records.Michael Stipe appears courtesy of Warner Bros.Records,Inc.Steppenwolf appears courtesy of MCA Records,Inc."For Love Or Money" by The O'Jays used courtesy of Sony Music Entertainment,Inc."Sugar Free" by Juicy used courtesy of Sony Music Entertainment,Inc.
Photograhy : Jean Baptiste Mondino
Design : Michael Nash Assoc.
Judy Blame does not want a credit on this album.
The Music on this Compact Digital Disc was originally recorded on analog equipment.
We have attempted to preserve,as closely as possible,the sound of the original recording.Because of itshigh resolution,however,the Compact Disc can reveal limitations of the source tape.
(P) & (C) 1992 Circa Records Ltd. Issued under exclusive license in the United States by Virgin Records America,Inc.

posted =oyo= : 12:46 | comment (0) | trackBack (0) | adventures of t.g.chaung /ものづくし (click in the world!)
トラックバック
このエントリーのトラックバックURL:
http://www.rtm.gr.jp/mt/mt-tb.cgi/547